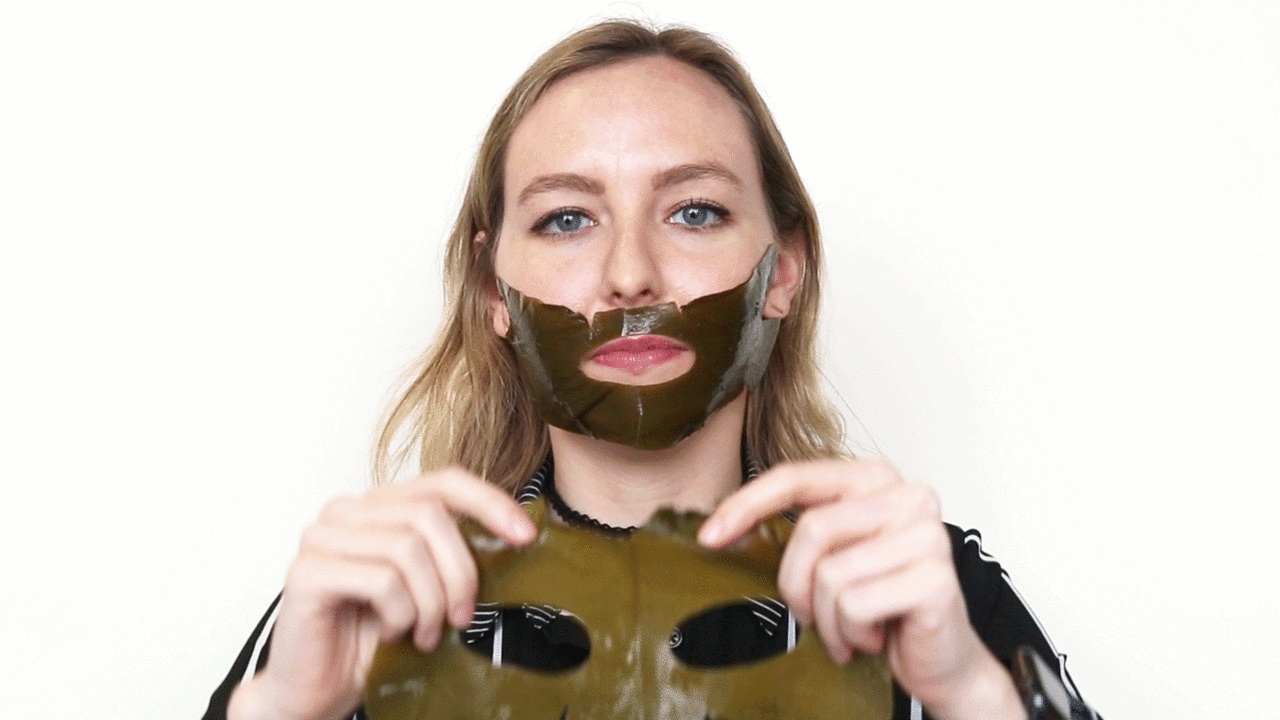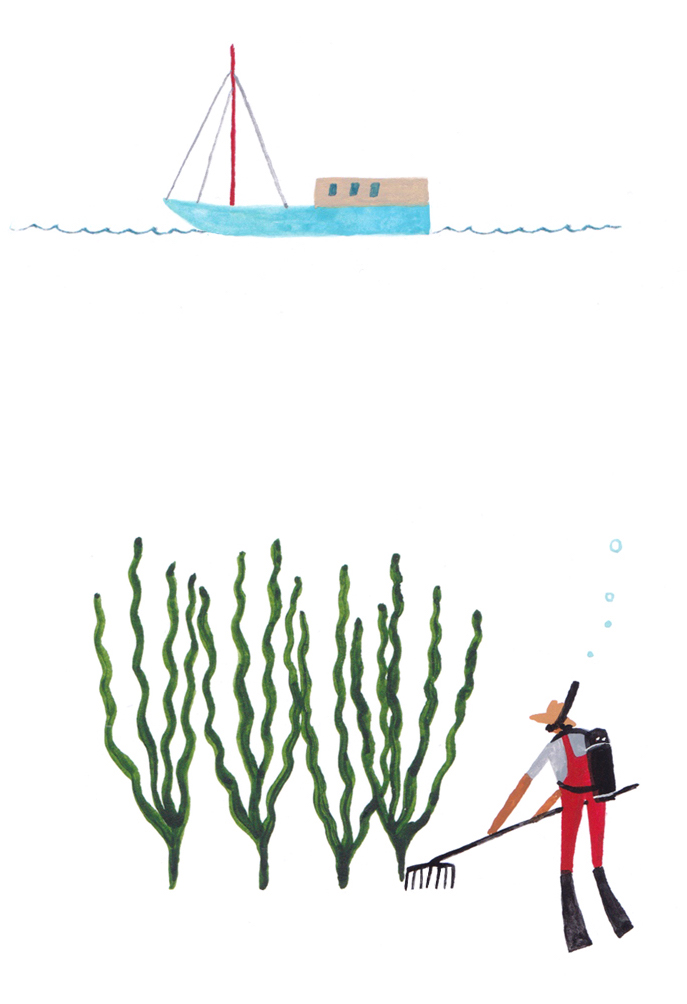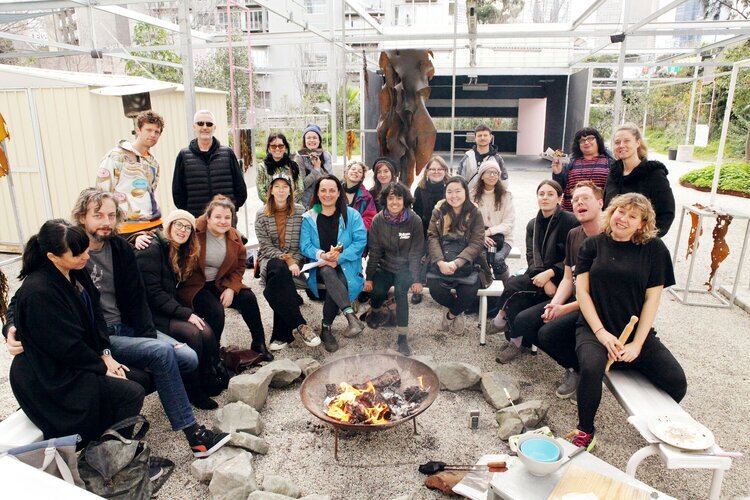 The Seaweed Appreciation Society international (SASi)
The society will operate as a mobile learning lab connecting artists with experts such as marine biologists and kelp farmers with the aim of extending awareness and exploring options to assist in regenerating marine habitats. It will involve excursions, designing a logo, kelp snacking, hive mind planning, more excursions, underwater photography, seaweed drinks, seaweed fashions, finding a clubhouse, planning a cooperative floating kelp farm that can also host artists as well as straight up schooling.
The inaugural meeting was held in May 2019 at Florence Peel Hall in Fitzroy and was cohosted by Lichen Kelp and Danni Zuvela as part of Liquid Architecture's Why Listen to Animals program.
Since then we have had groupings at Siteworks, Brunswick, presented at the Jaffle Symposium, Testing Grounds and held a seaweed forage in Point Cook Coastal Park. Lichen Kelp also presented a talk on the Kelp Highway for Matters Journal at Abootsford Convent and co-presented a 7 part seaweed feast at Lake Tyers Tavern, East Gippsland with Mat Bate, as part of a Forum of Sensory Motion residency with FLOAT.
Forum of Sensory Motion will continue to host travelling iterations of the program.
In 2020 Lichen Kelp will travel with SASi to hold a Forum of Sensory Motion residency with 10 artists in Chile, where the Atacama desert meets the ocean.
We are also continuing to hold talks, presentations and workshops out of community spaces around Melbourne and Australia and forages and snorkelling trips around the country.

So if you would like to come or you would like to host a meet up, in Melbourne or beyond, or have any ideas, links or people SASi should meet who may like to assist please let us know. Also please be aware that you don't have to be an artist or an algae expert to join, being Marine bio-curious is qualification enough!

1843 cyanotype algae image by legendary botanist, algae enthusiast and possibly first female photographer Anna Atkins.
more SASi information here; Seaweed Appreciation Society international (SASi)
and regular updates on Instagram @seaweed_appreciation_society
and facebook SASI/Seaweed Appreciation Society
The first SASi meet up was held at Florence Peel Hall in Fitzroy on May 6 2019 and was cohosted by Lichen Kelp (Forum of Sensory Motion) and Danni Zuvela (Liquid Architecture) as part of LA's Why Listen to Animals series.
We drank seaweed beer, ate rice bowls with Kombu floss and seven other varieties of seaweeds, discussed future plans for SASi and read from Richard Mabey's piece on Samphire (technically a sea vegetable) from the Caberet of Plants as well as the intro to this incredible piece;
An Artist's Guide to Herbs: Kelp and Exile by Harmony Holiday
The ocean's iron lungs.
Part of the Spectacular Herbs series.
SASi will invite elders of the Palawa people of Tasmania to hold a workshop in kelp basket making.
Pictured an example of a Palawa water carrier from the early 1900's in the National Museum Collection
The Seaweed Appreciation Society respectfully acknowledges the traditional custodians of Australia, its lands and its waters and consults traditional owners in the regions in which our activities take place. SASi recognises that Indigenous Australia existed in a balance with the oceans before colonisation and supports Indigenous governance of unceded lands and waters.
SASi aims to challenge and reposition prevailing anthropocentric conceptions of the ocean as a playground and a profit-making "resource" to be mined, towards a wider recognition of it as a complex intertwined marine habitat. SASI's ultimate goal is for our activities to assist current efforts in addressing the devastation of white settlement, industrialisation, climate change and over-fishing through education, collaboration and appreciation of the ocean's treasures.
further reading;
Tasmanian Indigenous Kelp Art
https://www.examiner.com.au/story/5509758/aboriginal-women-headline-gallery-on-display-in-launceston/
http://static.tmag.tas.gov.au/tayenebe/makers/EvaRichardson/index.html
Gwen Egg
http://www.tas-aboriginal-elders.org.au/basket-making
Hauntology on Country - Jess Cockerill
Terrior by Jonas Edvard
The project contains a new material developed from seaweed and paper and is created as a research into local materials. By combining seaweed and recycled paper waste Jonas Edvard and Nikolaj Steenfatt has created a tough and durable material. It is best described as a warm and tactile surface with the softness of cork and the lightness of paper which can be used for products and furniture. The colour of the material is determined by the different species of seaweed – ranging from dark brown to light green. The seaweed is harvested along the beach of Denmark, which stretches over 8000 km and is one of the worlds longest coastlines compared to the land mass area. After being dried the seaweed is ground into powder and cooked into glue, utilizing the viscous and adhesive effect of the Alginate – the natural polymer of the brown algae.
Algae in design….
further group research into algaes as a plastics replacement
Various photographic experiments will be carried out in future SASi workshops including cyanotypes inspired by Anna Atkins, a biologist from the late 1800's who is considered to be the first female photographer.
https://www.youtube.com/watch?v=ekUUuU7whe0
After losing her mother very early in life, Anna Atkins (1799-1871) was raised by her loving father. He gave her a scientific education, which was highly unusual for women and girls in the early 19th century. Fascinated with the plant life around her, Anna became a botanist. She recorded all her findings in detailed illustrations and engravings, until the invention of cyanotype photography in 1842. Anna used this new technology in order to catalogue plant specimens-a true marriage of science and art. In 1843, Anna published the book Photographs of British Algae: Cyanotype Impressions with handwritten text and cyanotype photographs. It is considered the first book of photographs ever published.
Full Digital collection of Atkins cyanotypes
https://digitalcollections.nypl.org/collections/photographs-of-british-algae-cyanotype-impressions#/?tab=navigation
The not-so-British Seaweed Appreciation Society international will stage an aquatic Ausexit at this session in recognition of the algal republic.
We will explore how politics has affected seaweed and marine environments around the world. We will design a flag for our one ocean and drink cups of seaweed tea with our middle fingers raised.
image: title page of Anna Atkins book of Cyanotypes British Algae Vol.1 with inspirational font!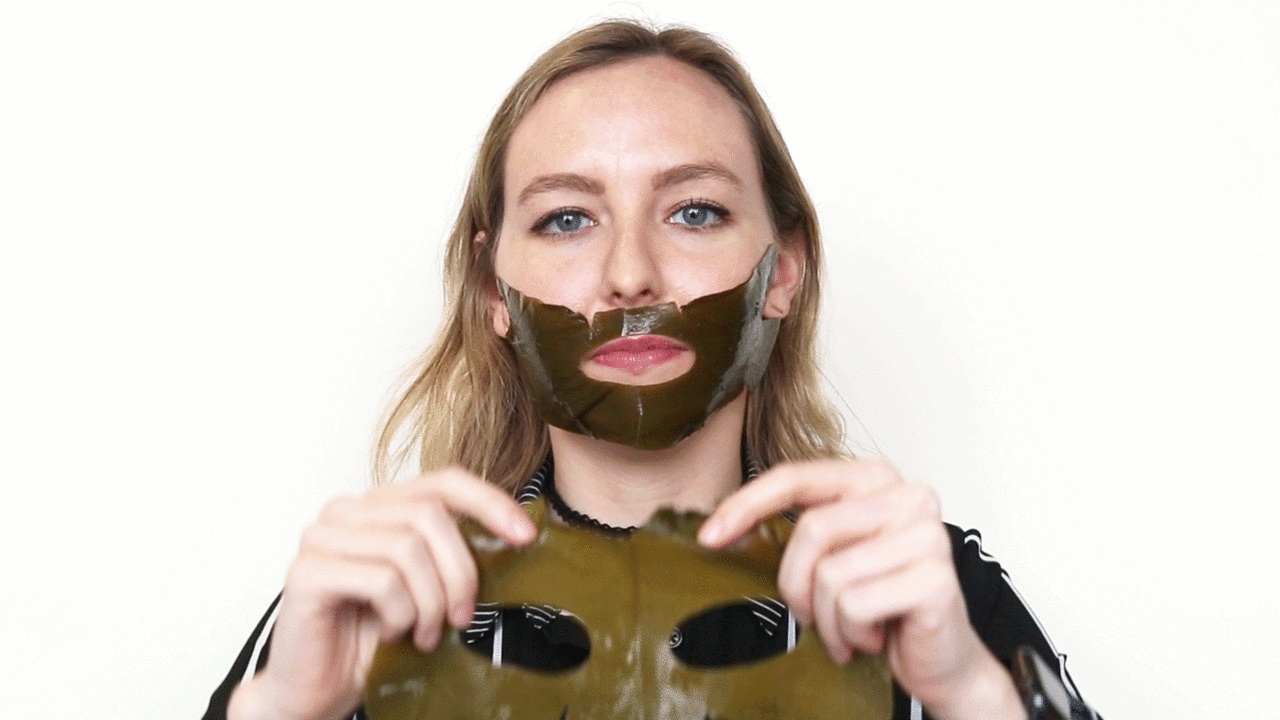 SASi will be creating our own one off algal beauty products. The beauty industry can be a bit suss but making our own seaweed remedies is going to be fun- slimy pampering with kelp facemasks, footbaths and dried clumps of seaweed to use as bath bombs at home. We will watch some vids wearing our face masks and snacking on nori popcorn, then do a light hearted beauty product review
Image sourced from here;
https://www.allure.com/story/starskin-detoxing-sea-kelp-leaf-sheet-mask-review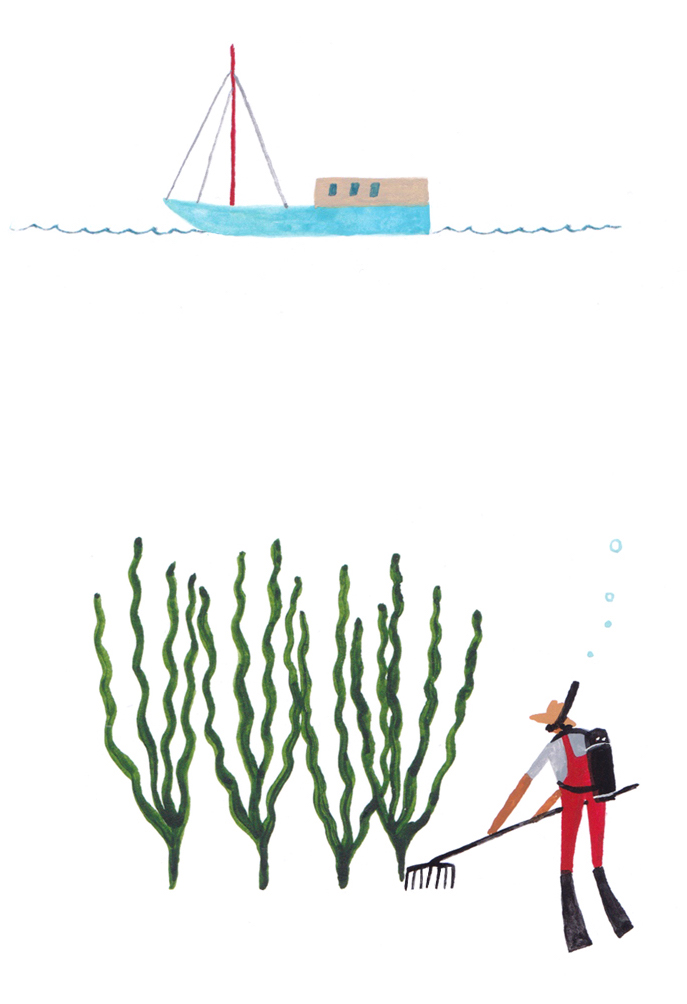 Kelp Farming.
Matt Bates from Matters Journal will present a session on kelp farming as well as present illustrations and excerpts from a kids book on seaweeds he is working on
I Get By with a little Kelp from My Friends
Kelp Farming innovator; Bren Smith
BC Kelp Farming article
The ultimate goal of SASi to return to the ocean as often as possible and to honour the humble entities that are marine algaes as a vital and endangered marine habitat as well as a traditional and future resource for food, design and well being.
In order to achieve this we will stage excursions to the shores of countries world wide, elevate the awareness of kelp forests through group research and workshops and investigate the viability of a floating artist residency that doubles a s a kelp farm lab.
Image from Eyes as Big as Plates an exhibition by Riitta Ikonen and Karoline Hjorth.
Come along to a SASi exclusive Winter Seaweed Forage at Point Cook Coastal Park Beach. Your guide is Chris Rockley, a locally known scientific illustrator and ethnobotanist. Chris will guide you through the local species of seaweeds and show you what is edible or useful. You'll learn what, where, when and how to collect in the field.
At home, seaweed can be used in a multitude of ways. In the kitchen foraged seaweed is washed and used fresh, blanched, cooked or blended. Many algae are high in iron, iodine and other minerals and can be easily added into salads, soups, dips and other delicious dishes. Seasonally, Winter sees brown seaweeds including Wakame and lots of reds. Harvest enough seaweed for a recipe on the day and learn to make a seaweed tonic for your garden.
Point Cook Coastal Beach has unique variety of Seaweeds that are quite different from neighbouring areas. It is right next to a Marine Sanctuary and we'll be foraging at the adjacent beach. There are also many introduced seaweeds found here that are popularly eaten around the world. As seaweed is seasonal, there are always new finds. Any unusual finds will be collected and pressed for further identification.
This forage is being held in conjunction with the Seaweed Appreciation Society international. SASi is a group research excercise in investigating marine habitats, applications for kelps in art and cuisine and ocean regeneration. Together they explore, peruse and ingest marine algae.

Low impact activity, no rocks.
Meet: Point Cook Coastal Park Picnic Area, Point Cook (the main picnic area), Side Entrance Road, Point Cook.
Time: 9.45am for a 10am start. Date: July 20 2019.
Bring: hat; gloves; waders or wet suit if you have some; water shoes or joggers; cliploc bag; bottle of water (for drinking and washing seaweed); notepad & pen along with your sense of adventure.

image via Chris Rockley
The "old" kelp lady of Narooma
The following story features on the Sea Health Products website and was written by Kay Keavney for the Australian Women's Weekly in January 1978:
Her name is Betty Long, and I call her the Kelp Lady.
She washes and rewashes the golden kelp with infinite care, dries it in the sun, chops it, turns it into meal, and she and her children eat it. Betty, her children, Anne (17) and son, Scott (15) are walking advertisements to its efficacy. They positively glow with golden health.
"Don't misunderstand," Betty told me. "Kelp is only one factor. We three live on a natural diet, mostly fruit and vegetables, nuts, dates, sometimes fish, but rarely meat. Wherever possible our food is organically grown – a lot of it in our backyard. And we live an active outdoor life. Even if we didn't want to, which we do, we'd have to gather the kelp.
"Seaweed is a marvelous supplement, rich in iodine and trace minerals, and proteins, and vitamins, and amino acids, and so much more, including bulk in the form of mucilage. It's been used by both human beings and animals (especially dogs) for centuries in countries such as Japan, China, Polynesia, New Zealand, Scotland, Ireland, the Continent. It's a real lifesaver in goitre areas, being the richest source of iodine in the world. These days the land is depleted of its minerals, and our food is processed and refined and de-natured. Chemical sprays and additives add to the dangers.
"But the sea was the cradle of life on this planet. It still contains an abundance of life-sustainers. Seaweed feeds directly on seawater, absorbs its riches. All it need is to be converted into a palatable form, without losing any of its properties, and eaten while still sea-fresh."
Betty was driven to her present way of life. About five years ago, badly rundown after private worries, she developed a serious, incurable (she was told) circulatory disease. The pain was acute, the prognosis threatening. She was ready to try anything. A friend sent her to the Natural Health Society of NSW. She was given good advice, but decided to work things out for herself by trial and error.
She was a Sydney girl, but all her life had spent holidays on a cliff hard by a beautiful crescent of beach near Narooma on the south coast of NSW. Twin sentinels, the superb Glass House Rocks, dominated the beach.
"At first," Betty said, "we camped. Then Dad built a bit of a shack. He loved this place above all others, and he said he wanted to die here, and in fact he did. He retired here and built the big house just at the other end of the beach, and ran a farm. I became pretty familiar with farming practice, and I noticed how the animals thrived on kelp. Eventually my father bought 220 acres of this coastline." She waved a sunburnt hand at the beauty on every side. "This belongs to my family, almost as far as the eye can see.
"And this is where I came, and bought the children, about four years ago when I was battling for my health and life. I lived with Mother in the big house across the bay while this house was built from the original shack. And I've been adding to it ever since."
The house was charming, light, airy, nose turned to the sea and the glittering Rocks. Manicured lawns (mown by Scott every weekend) edged fields of wildflowers. There were geraniums in profusion, Sun-drying kelp loaded long wire racks at the side and back of the house. On the beaches below, Scott rode his surfboard. Anne was swimming. The foam was purest white.
"I gradually worked out my diet," Betty said. "I tried to include kelp, but the stuff I could buy was imported, often stale. I'd sit here and watch the seaweed wash in on the beach, and think, why can't I gather it myself and use it fresh? There followed months of wearying inquiries and experiments. How was the seaweed converted into meal? And what would be the best kelp of the many varieties that the South Coast yielded."
Betty tracked down a disintegrator to chop up the meal. Her search for the perfect kelp ended with what she calls Golden Kelp, a type allied to the laminaria group, distinguished by its rich golden colour and fresh smell of iodine.
The Natural Health Society, excited by what she was doing, wrote about it in their magazine, which goes all over the world.
Betty was being bombarded with inquiries from all parts of Australia and as far away as Ethiopia and Japan.
Soon she was flat out filling orders. It was a highly expensive business, since she packages and then sends the meal post-free.
"I'm not breaking even," she told me without regret, "and I have to work hard gathering the kelp, sometimes going quite far a field to find my own special type. The children help me. It's a family affair. I cut the sea-rubbish away and wash the kelp in sea-water. Then I wash it in clean fresh-water and dry it on the racks in the sun. Then I wash and dry it again, which takes about five hours. This gets rid of the salt and impurities. If rain comes it's ruined. Rain washes out all the minerals. I have to work furiously in the rain to get it inside at times. When it's dried I put it by hand through the disintegrator then keep sieving it to pure meal. Then the three of us package it and post it away.
"I collect my orders from the post office in the morning and dispatch them in the afternoon. That way I'm sure everything is really fresh. When the weather's bad the work's quite dangerous, especially getting the kelp in buckets up the cliffs, but on sunny days I love it. In fact I love it altogether, even though it's hard, and it ties me down. It's tremendously interesting and worthwhile, and it keeps me out in the open air. Somewhere along the line I've forgotten that I was ever ill."
Anne and Scott came up from the beach and fell upon slices of papaw with the gusto most of us reserve for chocolates.
The sun shone. The seagulls soared. The giant Rocks glittered. The sea creamed on the crescent beach, and, receding, left on the sand its precious load of kelp.
SASi Jaffle Symposium at Testing Grounds, Melbourne.
For this event we foraged Giant Kelp from Apollo Bay to create draped seaweed walls for an outdoor room with a central fireplace where we cooked ocean bread jaffles with nori, cheese and native warrigal greens.
Image by Marina Lamari